Hi there my friends! Today, I am sharing something special that I had custom made for someone special:) Y'all probably will guess who, but just in case that someone special is reading, I don't want to totally blow it.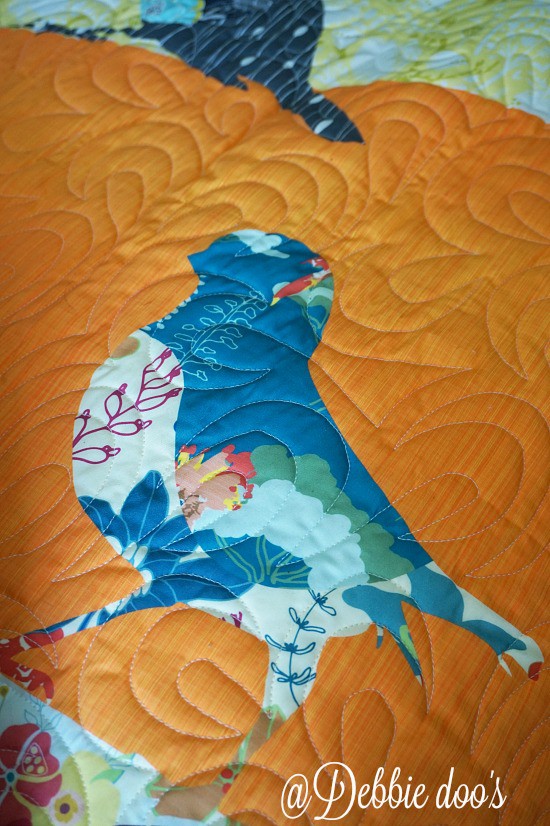 Although, she doesn't miss a trick I tell you.
Emily/co-founder of Stitched custom quilts had a brilliant idea imo.  Not too many of us can sew up quilts.  If you can, they typically take a very long time to do.
This is a sponsored post, however all opinions, feelings, suggestions are my own.  I would never bait my readers to something I do not enjoy, love, or have purchased myself. 

This is something Emily has to say:
A quilt is much more than just a blanket made up of fabric and thread: a quilt tells the story of its owner and demonstrates the love of the person who gives it. Many of us remember the blankie our mom or grandma gave us as a kid (some of us even still have ours as adults).  Because these were a gift from a loved on, they are a treasure, and that's what we want to help provide when anyone orders a custom quilt from STITCHED.
Each person has a unique story, yet we all have in common the longing for security & comfort.  Nothing provides comfort & security quite like a quilt!  STITCHED's mission is to provide everyone the tools to design a one-of-a-kind quilt to represent each story– making the world a softer, gentler place one story at a time.
Right now we're really promoting our Kickstarter campaign for Stitched. There are some great rewards and the quilt options are just small, medium, large and at pretty high discounts so it's a good way to jump in and get one secured. Delivery is a little longer that way though.
Here's the link
http://bit.ly/shop_stitched
You no longer have to know how to quilt to be able to give the gift of a quilt that one of your loved ones can cuddle with, and feel your love wrapped around them.
Stitched has a variety of categories for custom made quilts.  What I found I loved most, is you can custom change the colors, mix and match patterns, and really have a one of a kind quilt made for any occasion.  Right down to the blocks, the sizes, and again any custom colors and design to your liking.  Not to mention, it was so user friendly! You also get to see your finished product before you commit to purchasing.  I was blown away at how much  prettier than I imagined seeing it online.  I had my order from start to finish within two weeks.
I of course, chose birds. The quilt was called High wire act.
You know this season, I have been all about birds.  Starting in the kitchen, and working my way around to the family room.  The theme is birds.
A few years ago I bought a throw blanket for our guest room, it of course had birds on it.
My Mom has gone crazy trying to find the same blanket.  She has had absolutely no luck and actually did not even find one bird blanket anywhere.  Ahhhhhhh..well fret no more bird lovers.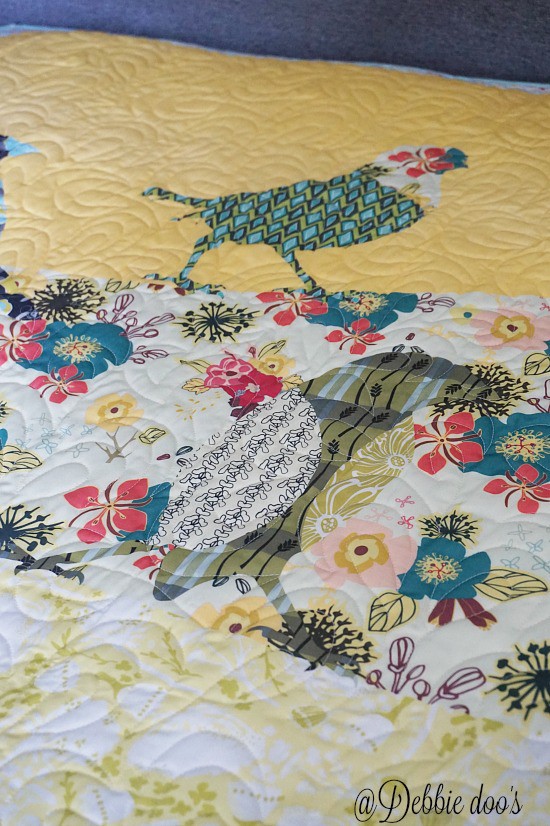 The lining itself makes you feel like a baby all cozy, soft and warm.  It really is so comfy and puffy soft and smooth.  I am not exaggerating when I tell you this.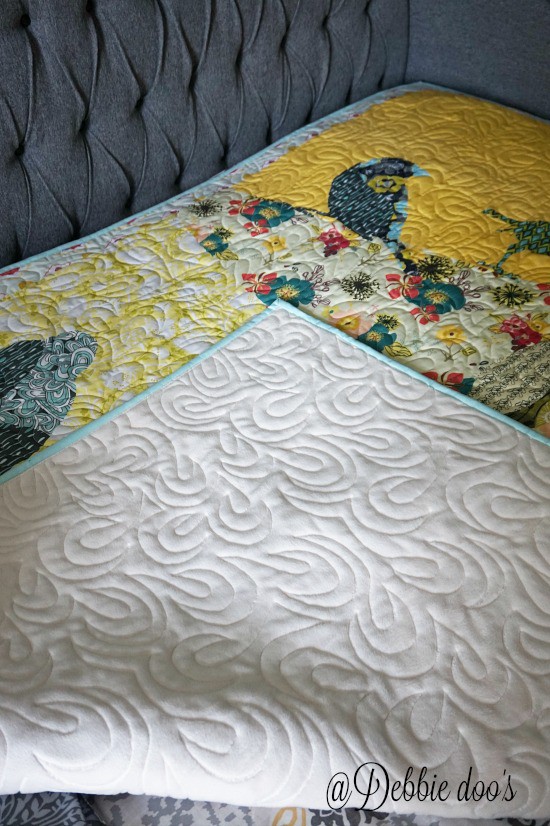 That's about all I can show you without completely blowing it for that someone special.  I hope she doesn't see it. Fingers crossed.  If you would like to check out Stitched I would highly recommend.  You can have that perfect Mother's day gift, baby quilt, wedding gift, etc. Just in the knick of time.
Stitch is offering a 10% discount to my  readers
Here's a coupon at check out:
DEBBIEDOO
Thank you for your visit today!
I share all things, thrifty home decor, crafts and a recipe or two on occasion.
If you would like to commit to becoming a subscriber, I would love for you to join me.