Since this post has been written 5 years ago, I am proud to say, I have since created my very own stencil line.

Today's post is all about DIY  Painted and Stenciled bar stools for the Kitchen.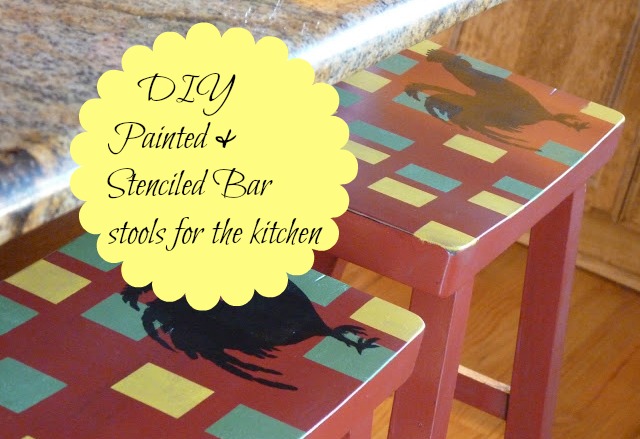 Did you guess yet?
Yes, A rooster.
Sometimes the simplest thing can be an inspiration, without even realizing it.
As these once black stools, then painted raspberry red, sat in my garage.
That trip to HOBBY LOBBY had done my brain some good.
As you can see I simply taped the stools
three pieces across
7 pieces down.
I then took my craft paint and randomly painted the squares.
Once that dried.
I took my rooster stencil and stenciled over the squares on the far right, or left hand side.
Much to my husbands surprise, I guess, I came up with something pretty good! Mike does know I am creative, and I can come up with some good stuff…he also worries first what it will cost him and second, what I am cluttering up.
Country rustic kitchen
I am pretty tickled with the end result.
Thanks for stopping by today.
If you like stenciling projects
and my exclusive new line.