Hey there everyone!
Sharing our master bathroom clean and refreshed!
I have been in a cleaning frenzy lately and our Master bathroom was the start of it.
First off I want to share how to clean your glass shower doors.
That was the biggest obstacle in our master.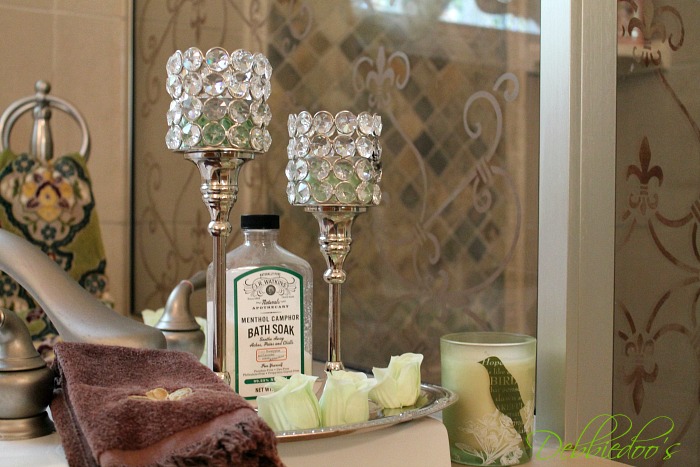 it's been about two years now since I stenciled the shower door.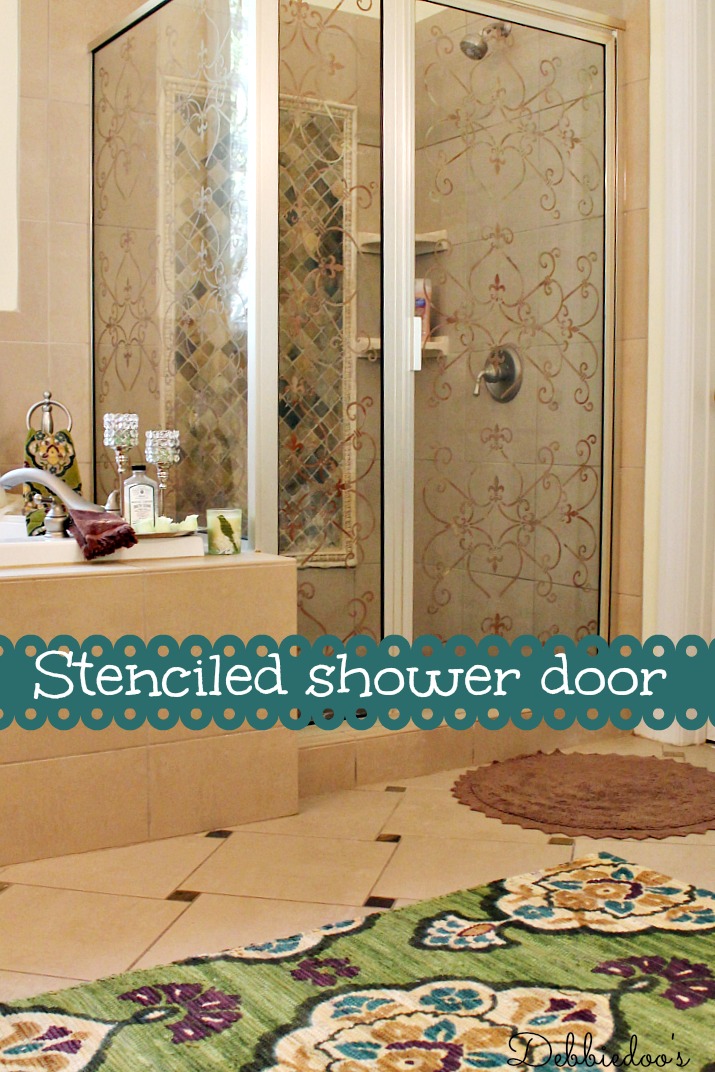 Still holding up great.
Some have asked how I clean the outside.
Well, first off, it really does not get that dirty, but I do wipe it down gently with a dry cloth on occassion. If need be I take a magic eraser and get in between the stenciling job.
The inside of the shower is the problem
The home remedy I used was Dawn, and white distilled vinegar.
I had lots of recommendations on facebook for this remedy.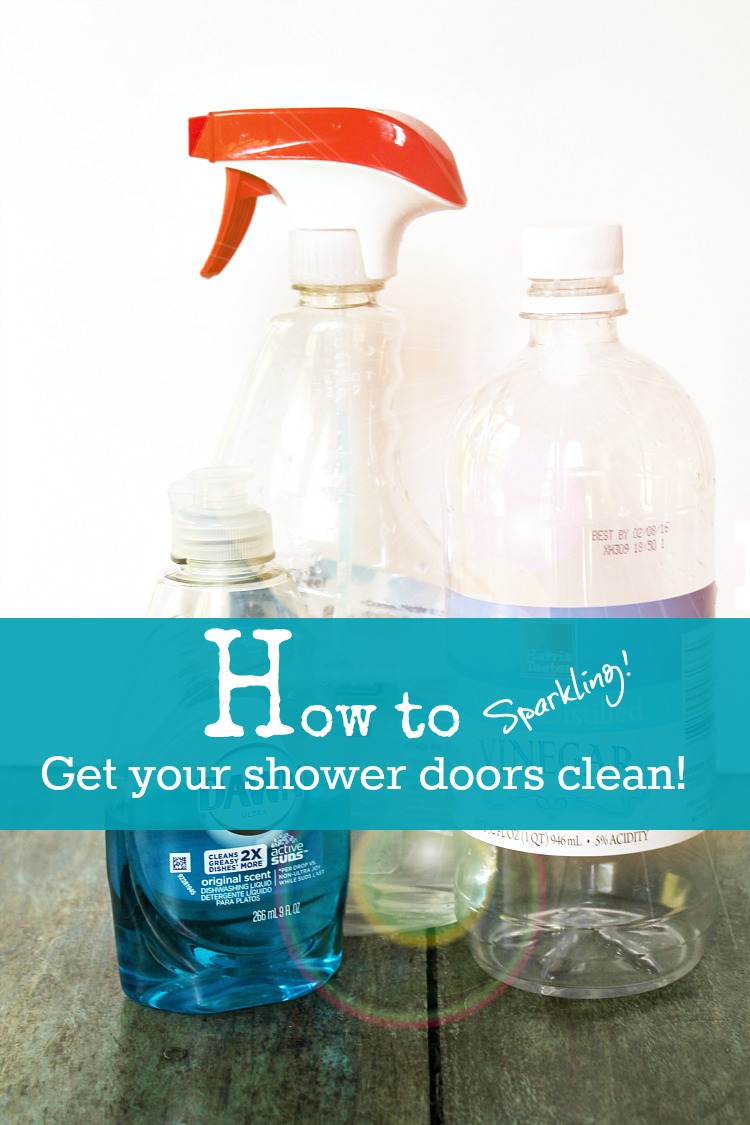 The ratio I went with was
3/4 vinegar 1/4 blue dawn in a spray bottle.
I mixed, sprayed, and used the magic eraser.
It worked like magic.
YAY!
Now onto the bathroom.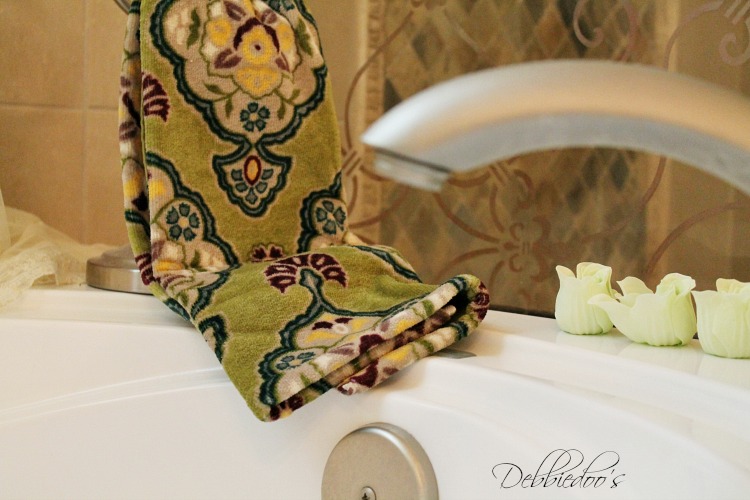 My motivation for cleaning was a few new accessories I purchased from World Market.
Hand towel, rose petals,
larger towel and a rug.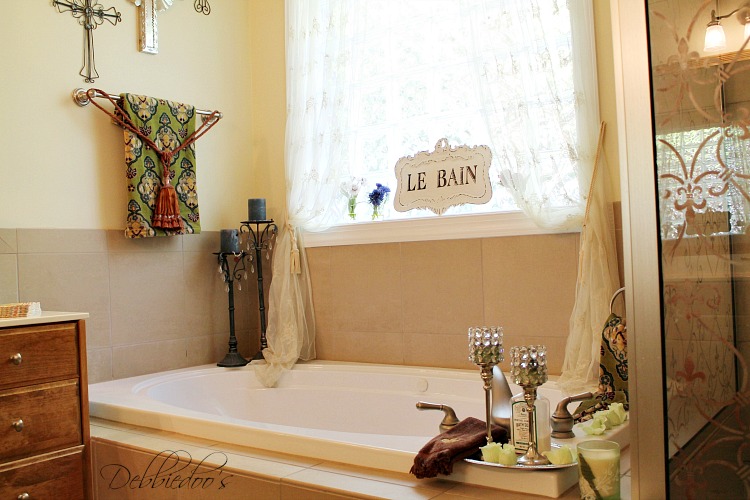 And the Le Bain sign.
Next I will replace the hardware.
In fact I am using the same hardware I used for our kitchen. I had bought extra and only need a few more.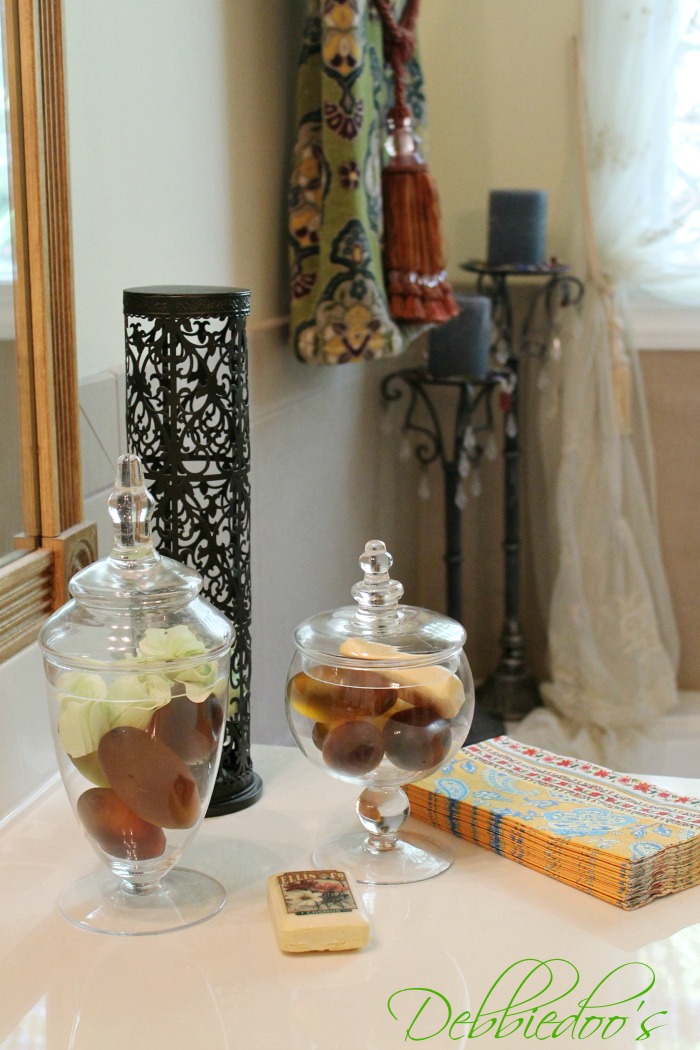 The molding around the mirror was a diy we also did a few years back.
We started in the boys bathroom and then worked our way around the house.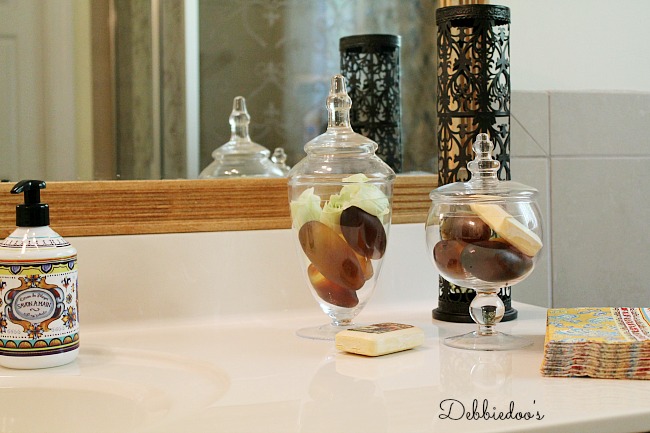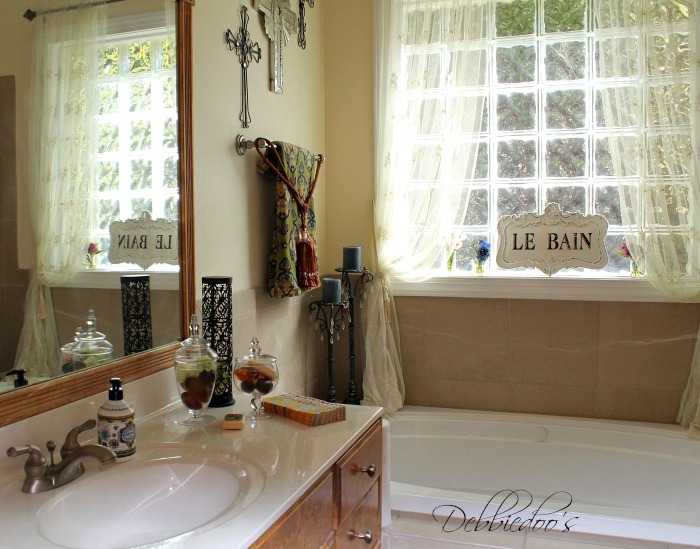 I also used that cleaning concoction on the vanity and tub. Sparkling I tell ya, everything is sparkling!
for a day anyway.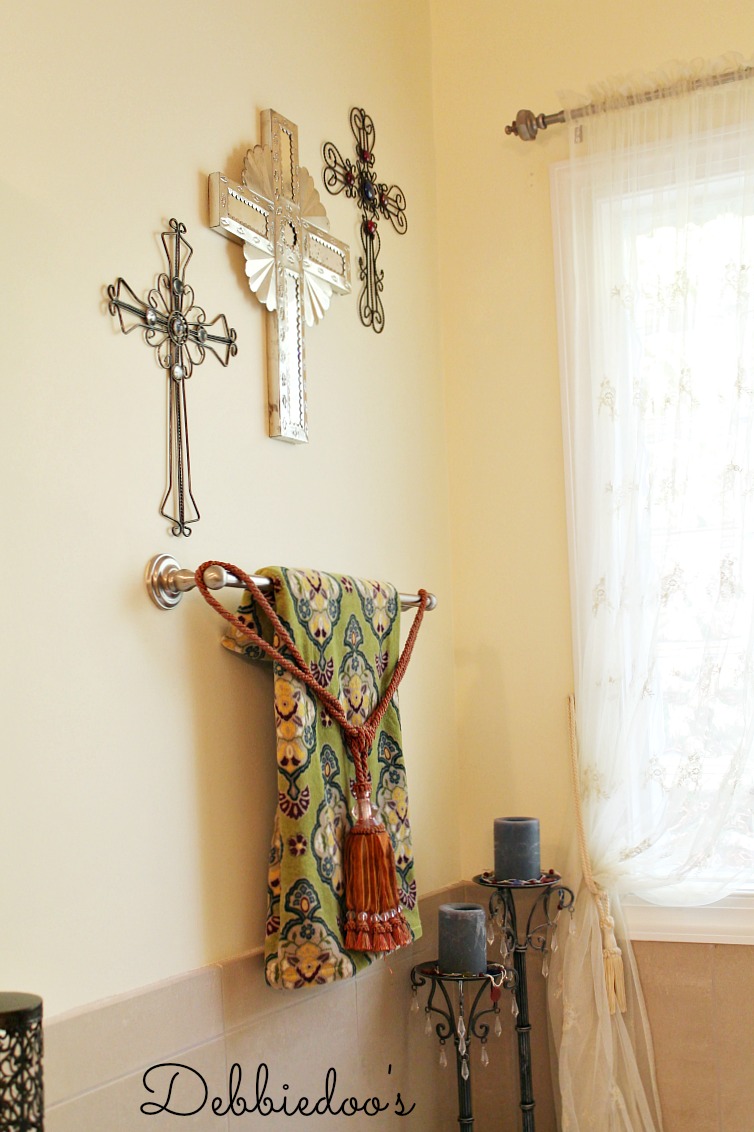 the crosses are something we have had for years.
The large silver one was a find in Arizona, and I still love it and have not changed it.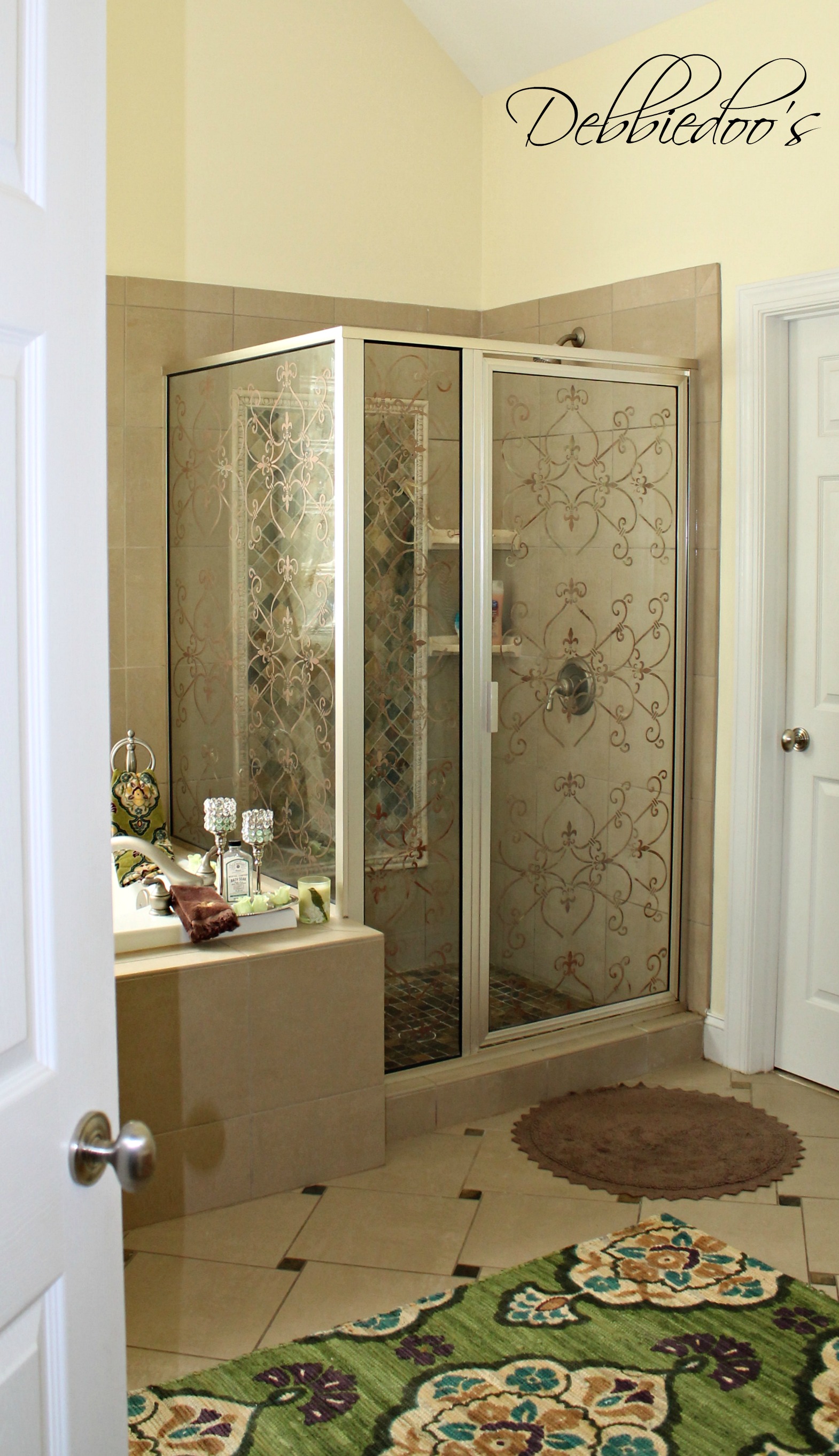 I would LOVE a seamless shower door and new tile as well.
Although you may think it looks pretty on the inside, it is not fun to keep clean. It's just not!
But,not a necessity and certainly not in the budget.
Thanks to my facebook friends and all the suggestions you gave me on the formula to use,
I greatly appreciate your help.
Hey you can follow me around anywhere, anytime.
Thanks for stopping by today.