Howdy there everyone!~
Do I have to apologize some more for being so out of touch?
Nope, I don't think so, if you are a Mom of younger kids…. you get that!
Been a fun summer so far and it is not even official yet!
HOWEVER, it almost is, and we are kicking it off with
our pool noodle party!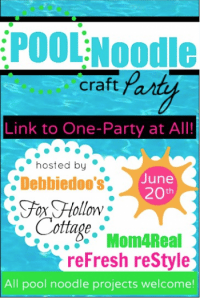 This is going to be so much fun! I can't wait to see what you all come up with.
The party will be starting Tuesday evening some time.
This party was prompted by the lovely
Shannon from Fox Hollow Cottage.
Shannon made the cutest wreath, in fact two of them…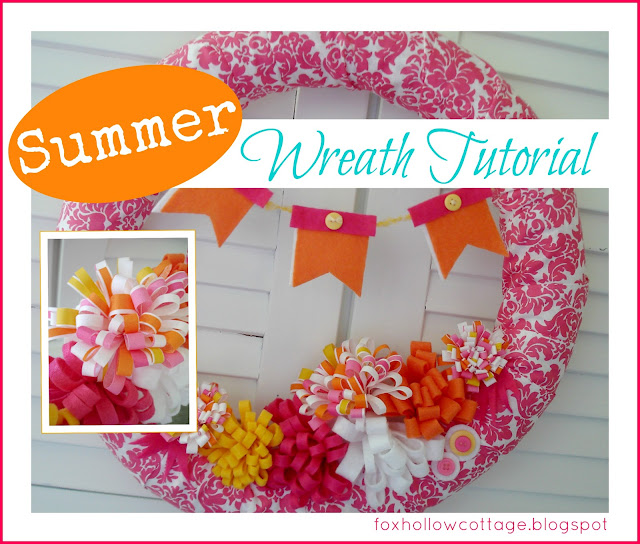 It was shortly thereafter that Mom4Real said, hey let's have a noodle party!
Sounded good to me!!~.
Shannon has been a long time friend of mine since before blogging.
That site Rate my space sure brought a lot of us women together and so many have formed some really nice friendships because of it.
One day, I contacted Shannon and told her, I thought she was really talented and loved her spaces.  I of course said, you need to start a blog.
Hence, it took her a while, but here she is!
NOW, Shannon not only creates beautiful crafts and shares gorgeous photos of her cottage, she is also a huge cheerleader for many of us.
Do you like my new HEADER?
Oh my gosh, I  LOVE IT!
So, fun and so fresh.
Shannon offered to do one for me, and I jumped at that opportunity. You know she loves to play and create in picmonkey, and that girl has some patience.
 Not me, so YES, go for it.
Shannon would LOVE to help you create a  new header that is totally reflective of your own individual personality, and blog design.
She can also make really cute buttons, and social icons.
She is just starting to dabble in it, but I think she really is onto something and I would love if you would give her a whirl for a Fun,and oh so fresh, header, buttons, and social icons on your own blog.
She is dirt cheap right now, so get in while the getting is good!~
Thanks Shannon for all you do, for so many of us!
Love ya girl!~ XO
You may visit Shannon
or contact her directly via email
P.S.  The new wallpaper you see, I installed.  I googled wallpapers, found the one I liked, saved it to my images, and then downloaded it under my background option.  Easy peasy!
WAIT one more thing...sorry I am long winded today!
I had an urgent problem today on my wordpress blog.  I tried to add on a plug in, that was a conflict with my blogs current theme.
It then left me with a fatal error and I could not get into my account.
I contacted my blog angel Kristi from Addicted2decortating, and she bailed me out quickly!
Kristi offers her services at a very reasonable rate.
If you are with word press, or thinking about moving to word press, I would give her a shout!
Reliable, reasonable, GOOD,  and so very kind!
What more do you need?
That's it for today folks!
I LOVE my blog:)